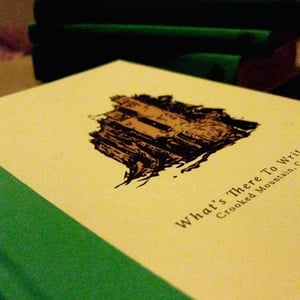 £

8.00
Released: 02/05/11
The brilliant debut album from Brighton four-piece Crooked Mountain, Crooked Sea. These strictly-limited edition physical CDs come packaged in a selection of specially adapted second hand books.
1. Faults
2. Drawing Details
3. Plans
4. It's the Same
5. Chances Scattered
6. Second Guessing From an Armchair
7. Other Places, Other People
8. Hours in the Frame
9. It Should
10. Graces Think Pit
'Crooked Mountain, Crooked Sea have a lot to be proud of here; What's There To Write About takes post-hardcore across some relatively unexplored dynamic paths that defy the album's diminutive duration.' - Drowned in Sound
'The album RIPS with discordant melodies, dense rhythmic blasts, and blinding ferocity... these guys really have perfected the post-hardcore sound on their mangled and explosive full length, which really NEEDS to be listened to.' - Exploding In Sound
Ships within 2-3 days. Delivery via Royal Mail.
BOXSOC004
http://crookedmountaincrookedsea.com
boxsocialrecords [at] gmail [dot] com